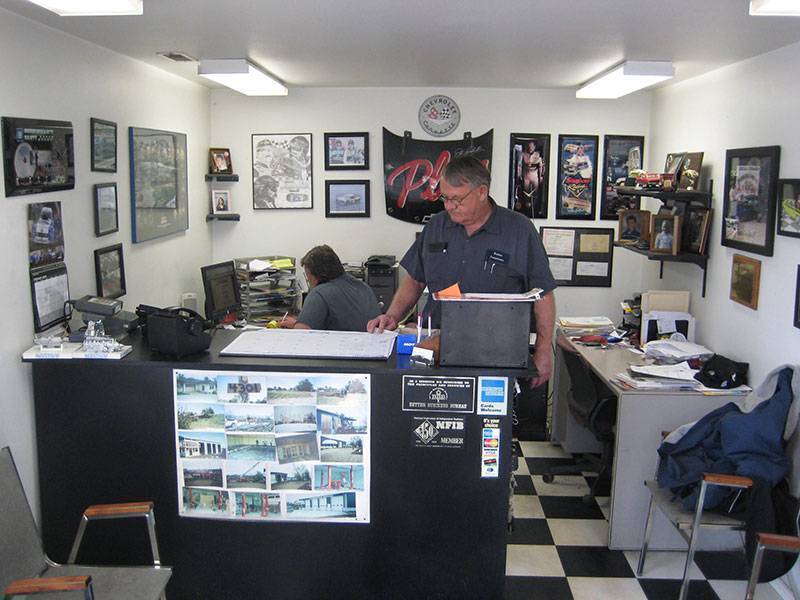 Bill Knudson. One of the names behind
Knudson Transmission Service, Inc.
moved the business to a new location June of 1999, right next door to the old one. The shop at 4301 SE 14th Street continues to concentrate on providing transmission service and repair. "Concentrating on business in the previous four-bay, 2400-square foot shop was a little cramped," said Knudson. "Making the move to six work bays and 5,000 square feet has been a better fit."
C.E. (Knute) Knudson started the business in 1951. From his experience working for a downtown auto dealership, the elder Knudson decided to open up his own shop from a garage in his back yard on Wall Avenue in Des Moines. After moving to a shop on Southeast 14th Street, the family torch was passed to Knute's son, Bill, who came to work at the shop in 1968. Bill's interest in cars became his career. "My dad and I worked together until he retired in 1970," Bill said. "I really enjoyed the business and the work."


The legacy became a little stronger when Bill's son, James, started getting his hands dirty as well. At the age of 12, James already was showing an interest in cars and the family business. It made his father proud. "James has worked here ever since he was 12 years old," Bill said. "He worked here part time in high school and college. Now he's here full time."
Although management of the family business is in its third generation, the pioneer of the business has not been forgotten. When Knute passed away in 1995, he had not left instructions on what was to be done with his remains, according to Bill. The solution was a simple one. When the foundation was laid for the new location, the family requested that Knute's ashes be sprinkled in with it. "This way he is still a part of the garage," Bill said.